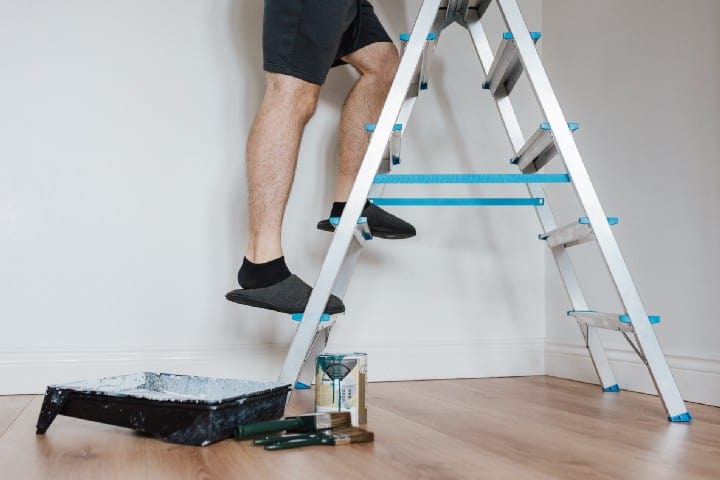 With inflation on the rise and house prices shooting through the metaphorical roof, it may seem like a daunting, if not impossible, prospect to buy a home
The ONS (Office for National Statistics) has found that house prices were have reached over 9x average earnings. It is therefore no surprise that almost half of people have been relying on the Bank of Mum and Dad to get a foot into their first door and that renting has become the depressing new normal for under 35-year-olds. Luckily, it is not all doom and gloom.
Whether that is through government schemes, new private providers such as AHauz and Proportunity, or even Shared Ownership arrangements, there are roads to your first home.
Get Government to lend a hand
If funds from the Bank of Mum and Dad are looking thin on the ground, you may want to ask for some help from Big Brother. Over the past few years, the government has developed a few simple initiatives to help give you the keys to unlocking your first property purchase.
If funds from the Bank of Mum and Dad are looking thin on the ground, you may want to ask for some help from Big Brother. Over the past few years, the government has developed a few simple initiatives to help give you the keys to unlocking your first property purchase.
Help to Buy Scheme
First off is the government's handy Help to Buy scheme. An equity loan to encourage first-time buyers into new-build homes.
It is essentially a 'top up' mortgage. You simply pay 5% of the purchase price in cash and arrange a normal mortgage, whilst the government 'tops up' the mortgage with a loan of up to 20% (40% in London) of the cost of the newly built home. Get ready to feel extra special; this offer exists exclusively for first-time buyers, meaning that this scheme has you directly in mind.
The equity loan is interest free for the first five years and can be paid back at any time up to the maximum loan term of 25 years. However, after five years, you can expect to be charged 1.75% interest which then increases every year in April, by adding the Consumer Price Index (CPI) plus 2%.
However, regional caps have been introduced which could restrict your choice of home. For example, in North East England, the Help to Buy scheme can only be used on homes worth £186, 100 or less. In the South East, the figure is £437, 600. Whilst in London, only homes with a value of less than £600,000 are accepted.
Like the sound of this? Well prepare to get a wiggle on, as the scheme is due to end in March 2023. To register in England, you need to apply through any Help to Buy agent in the area where you want to buy your new home. So, what are you waiting for? Get moving.
Pros ✅:
Only a small deposit of 5% required.
Loan is interest free for 5 years — giving you some breathing space.
An opportunity to access more competitive mortgages — instead of needing a 95% loan to value a mortgage, you could be looking at as little as 55%.
Cons 😬:
Only available on new build homes.
Interest charges after 5 years could be expensive (linked to inflation).
Ending soon!

First Homes Scheme
The government recently rolled out their First Homes Scheme to further give you a much-needed bump up the property ladder.
With this new initiative, if you are a first-time buyer, you may be able to buy a home for up to 30% to 50% less than its market value. The home can either be a new home built by a developer, or a home that you can buy from someone else who originally bought it as part of the scheme. The houses themselves cannot cost more than £250k in England (or £420k in London) after the discount has been applied. It could be possible to buy a property with a maximum market price of £500,000 in England, or up to £840,000 in London. Those are some serious discounts.
You can only sell the home to someone who is eligible to buy a First Home, and you must give them the same % discount you received, based on the home's market value at the time of sale.
To apply, you must have a combined household income of less than £80,000 (£90,000 in London). You will have full ownership of your home, meaning that you can draw on the walls to your heart's content. If it's a house, you will own the freehold. And, if it's a flat, you'll own the leasehold.
The catch? It is only a recently launched initiative, so the scheme is only available at certain sites and competition is high. You also need to make sure that you're not paying too much. Newly built homes come at a premium, perhaps meaning that you're ignoring the older, yet cheaper, homes in the market area.
Pros ✅:
Big discounts on the purchase price.
Help communities stick together — by encouraging people to buy in the local area.
Cons 😬:
Only available on new builds.
Currently restricted to a few areas area.
Potentially limited resale pool
Schemes filling the Help to Buy gap
As the scheme comes to a close, companies like AHauz and Proportunity are entering the market to provide Help-to-Buy style equity loans to help home buyers. They contribute up to 25% of the home value in a 'top up' mortgage. You can repay their loan at any time (no early repayment charges), and they allow you to borrow up to 6 times your salary. You have to be earning a minimum household income of £25k (AHauz), or £30k (Proportunity) in order to be eligible.
Unlike the government schemes listed above however, their loans are not restricted to only new builds. In this respect, they offer a lot more eligible property types. Yet, unlike such government schemes, you make interest payments from year one (not year five), and you can find yourself penalised for making repayments before the fifth year.
Pros ✅:
The original Help to Buy scheme helped over 350k people get on the ladder
Not restricted to only new builds or first-time buyers.
Only 5% deposit required for AHauz and Proportunity providers.
Cons 😬:
Companies like Proportunity can be quite 'choosy' on the type of property that they lend on.
Need to be making interest payments from the first year (rather than Help to Buy's fifth year).
Companies such as Proportunity and AHauz can only lend a maximum amount of 25% of the house value
Sharing is Caring
A problem shared is certainly a problem halved. The government's Shared Ownership scheme allows you to buy a 'share' of a property, and then rent the other share. The share can be anywhere from 25%-75%, and you have the option to buy more shares out over time.
These schemes are largely run by housing associations, and are available to anyone as long as they meet the eligibility criteria. For example, much like your new house, it is a good idea to make sure that your credit history is equally looking spick and span.
Selling on can be complicated. If you own 100% of you home, you can sell it on the open market, but if you don't then your landlord will have an opportunity to find a buyer for your share. This is to ensure shared ownership properties are being offered to those who need them most.
Shared ownership homes have a reputation for being well-located. Want to see what's available in your area? Check out the website here.
Pros ✅:
Can buy a share as small as 25%, so the deposit can be as little as 5–10% of that. You can build your shares over time, making bigger investments as and when you're ready.
Stamp Duty can often be deferred until you own around an 80% share.
It has kicked off in London — prepare for some great deals in great locations.
Cons 😬:
Properties are usually new build and leasehold — so you often pay mortgage, rent, and a potential service charge.
Don't expect total control as you have to remember that you only own a share. Renting is rarely allowed, and you'll need permission to draw on the walls this time.
Selling your share can be tricky, as you'll have to find a buyer who fulfils the shared ownership 'eligibility criteria.'
Not all mortgage providers will lend on shared ownership.
Part-buy, part-rent schemes
Wayhome, for instance, works with investors to help you gradually build ownership shares in a home. It is essentially home buying without a mortgage. Unlike traditional shared ownership models, Wayhome is backed by pension funds and teams up with buyers to purchase resale properties costing £200k – £500k.
They don't lend you any money. Instead, they buy the home with you, and you become co-owners. If you pay 5%, they'll pay the other 95%, with money coming from their funding partners. You just need to have a household income of £30,000 and be able to front the 5% minimum deposit. You'll also have to pay rent on the percentage portion that you don't own. You then buy more shares over time, eventually buying Wayhome out.
StrideUp is a similar scheme working to help potential home-buyers buy their homes in shares. Like Wayhome, you own with StrideUp buying the share you can afford and buy the rest back over time from them. No mortgage involved. They need to agree on which home you buy but seem open to most types of abode.
Pros ✅:
Smaller deposits required.
Doesn't just rely on new builds.
You can treat the home as your own.
Cons 😬:
Upping your share in the property could incur hidden costs.
There is no guarantee that the rent will be cheap.
The more the MaryR
Or, if you want to keep it simple, you can buy a home with others the 'normal' way. Introducing… well, us.
Pool your resources with family and friends, and get on the ladder 4 years earlier. The MaryR platform ensures your individual equity in a jointly owned home is protected, making the buying (and exiting) seamless. Making it easier to make that first step onto the ladder.
We provide realtime data on what you own in a home, changing dynamically based on contributions, and the ability to transact your share with ease. That means avoiding awkward situations about who owns what!
It is all done in a way which the lending and legal sector recognise, bound in a Deed of Trust. We make sure that everyone gets their fair slice.
With the depressing fact that almost 45% of the UK adult population lack confidence when managing their money, MaryR empowers you and your finances, to help you understand how much you own of your own home when sharing with others, and what to do next. MaryR can project when you have enough equity to buy your next place. So, when the time is right, sell on when it suits you. Simple.
Given that now more than 80% of young people are open-minded about who they buy with, and the buying a place seems so out of reach — plenty of people are thinking about how they pool their funds to stop paying rent and start building their lives. They must be onto something.
With so many different roads leading you to your new home, it can be hard to know which path to choose. We hope that our handy guide has helped you to simplify the process.
Back to blog